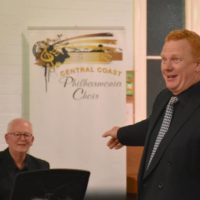 Thanks Philip Rees for a great night. It is always a buzz to perform to a full house. Great to see our loyal followers there as well as Carmen and Jubila people and those from St John the Baptist Church.
Wonderful performances from Noah Peres, Hannah Greenshields, Angelique Tot and Warren Fisher (as Phil says - good to see him starting to overcome his shyness). The string ensemble was perfect for this intimate venue. The choir sounded fantastic – a great effort with only 9 weeks preparation.
Can't wait to get along to Carmen next month with Phil and several choir members involved. For us, a couple of weeks rest then into preparations for Calling All Dawns - a collaboration with the Central Coast Conservatorium at The Art House, Wyong on 13th August. Don't miss that one!